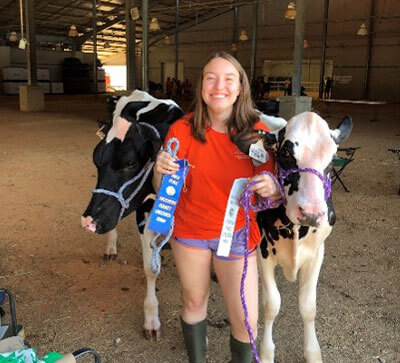 In August 2021, Camila graduated from Clemson University with a bachelor's degree in Animal and Veterinary Sciences. There she concentrated on pre-veterinary medicine and plans to gain more veterinary experience, then attend the University of Georgia College of Veterinary Medicine.
For as long as she can remember, she has loved animals. In the first grade, she found out it was possible to be a doctor for animals and decided that was what she was going to do with her life. She originally planned to become a small animal veterinarian, but that changed when she moved to Clemson and spent time at the dairy, sheep, poultry, equine and swine farms there. Her goals are to become a mixed-animal veterinarian with her own practice and to be heavily involved in the world of animal rescue.
Camila shares her home with a Jack Russell/Parson Russel terrier mix named Widget, two rescued domestic short-haired cats who live up to their names – a tuxedo named Clyde and a brown tabby named Bonnie – along with a tug snow leopard gecko named Zilla.
In her free time, she enjoys hiking with Widget, swimming, reading, attempting to master new recipes and gaming.