Jeff M. Legato, DVM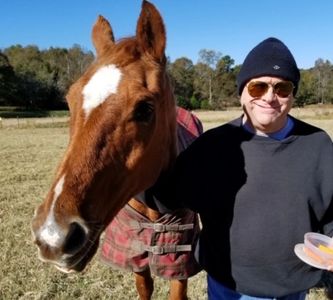 Don't let the accent—or the lack of one—fool you! Dr. Jeff Legato was born in Georgia and grew up in the Athens area. His original degree was in geology, which was kinda-sorta-maybe used while he worked at a research lab for 15 years. During that time, he began riding and showing horses. This led to his decision to switch careers, so he started veterinary school at the (gulp!) age of 40! After graduating from the University of Georgia at Athens in 2005 and doing an internship in Sunset, LA, he was an equine vet in Greenville, NC until 2008. He moved his family back to Georgia in 2009 and spent two years doing relief work until a full-time position opened in Norcross, GA. After seven years he was given the opportunity to have his own practice close to home, and he's now happy to be the owner of Sycamore Veterinary Services, where he is a USDA-accredited veterinarian offering small animal, livestock and equine veterinary care. Dr. Legato has a daughter (Stefanie) and a granddaughter (Heidi), as well as two cats named Odin and Luna and one dog, named Dahlia.
Camila Silva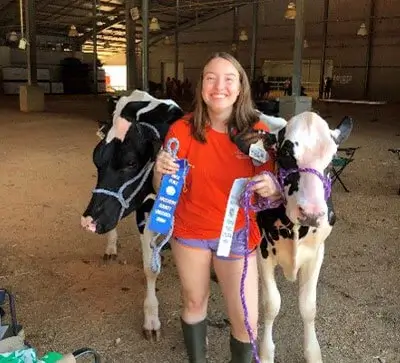 In August 2021, Camila graduated from Clemson University with a bachelor's degree in Animal and Veterinary Sciences. There she concentrated on pre-veterinary medicine and plans to gain more veterinary experience, then attend the University of Georgia College of Veterinary Medicine.
For as long as she can remember, she has loved animals. In the first grade, she found out it was possible to be a doctor for animals and decided that was what she was going to do with her life. She originally planned to become a small animal veterinarian, but that changed when she moved to Clemson and spent time at the dairy, sheep, poultry, equine and swine farms there. Her goals are to become a mixed-animal veterinarian with her own practice and to be heavily involved in the world of animal rescue.
Camila shares her home with a Jack Russell/Parson Russel terrier mix named Widget, two rescued domestic short-haired cats who live up to their names – a tuxedo named Clyde and a brown tabby named Bonnie – along with a tug snow leopard gecko named Zilla.
In her free time, she enjoys hiking with Widget, swimming, reading, attempting to master new recipes and gaming.
Christine Supple – Hospital Manager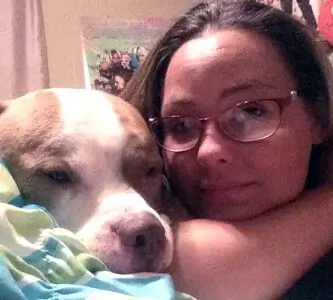 Christine became an animal lover with the adoption of her first dog 13 years ago and went on to volunteer with a pit bull rescue group in her home state of Connecticut. After spending many years working in the movie cinema business, last year she decided to make a career change and move into the veterinary field where she could make difference for animals.
She and her family made the move to Georgia in 2020 and in addition to working at Sycamore, Christine is pursuing an education in Veterinary Medical Management.
When she's not working, Christine enjoys going to fairs, amusement parks, the movies, and restaurants. She also loves spending time with her two dogs: Princess Pop-Tart (who yes, is known for stealing the toaster pastries from lunch bags) and Koa, who loves water and stealing treats from Princess.
Briana Pucci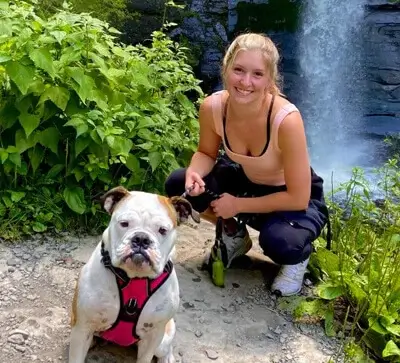 From the time she was a young child, Briana was interested in animals and veterinary medicine—she remembers being fascinated by the hospital when her family took their dog to the vet. She has followed that interest into the veterinary field, first as a job shadow and now as an assistant and technician. She is also currently studying at UGA as a Fisheries and Wildlife major, with the intention of becoming a veterinarian in the future.
When she's not studying or working, Briana loves being active in the outdoors, whether that's hiking, walking, or running. She shares her home with an unusually active bulldog named Millie.
Kristin Dennard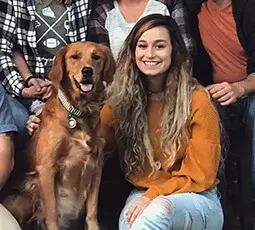 Like much of our team, Kristin found her love of animals at a young age and always felt called to care for them. She has an adorable 6-year-old Golden Retriever at home named Cooper, who she says is the laziest dog to ever live! Kristin also has Bean, the 1-year-old cat who is the diva of the house. When she isn't hanging out with her furry friends or working, Kristin enjoys traveling, spending time with family, or participating in any number of competitive sports. Her education continues after receiving her associate's degree of science. She is now working on her pre-vet bachelor's degree while working with us.
Ally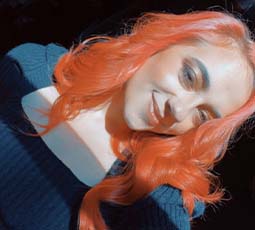 Receptionist
Ally joined our team in December 2021. At 15, she knew she wanted to work with animals after loving every second she spent with them while working with her mom at a grooming facility. She shares her home with three dogs, Great Danes Ade and Boudreaux, blue heeler Ray Ray, tabby cat Maggot, and pot-bellied pig Poe Poe, who will roll over for belly rubs. Ally enjoys reading in her free time.